---
Season Five George Episode Guide
---
The Mango 9/16/93 George has a new girl, Karen. But he has a sexual problem with her--he's not comfortable below the equator. He even gets the tap and the hook and seeks Jerry's advice. We also learn that he can't tell when a woman is faking (neither can Jerry). Now he is obsessed with the idea that Karen is faking and he can't perform. But the solution presents itself when he buys fruit for Kramer and Jerry ($28.60) and takes a bite of a mango. But he blows it when he insists that Karen is faking.
The Puffy Shirt 9/23/93 George is forced to move back in with his parents because he only has $714 left in the bank. Concerned with the well being of their son, Estelle suggest that George take a civil service test. He doesn't like the idea (he also doesn't think he can pass it) and leaves the table to go to the bathroom and runs into a woman. The woman offers him a job as a hand model with her agency, Specialty Models. George goes to great lengths to protect his assets, he even wears oven mits as gloves. While at the photo shoot, which is for a watch, he learns that the last great hand model, Ray McKidney, had hands just like George's. However, Ray's hand became like a claw because of masturbation. George tells them they have nothing to worry about because he won a contest. His modeling career lasts only one shoot as he is pushed into an iron by the low-talker.
The Glasses 9/30/93 George thinks someone stole his glasses at the gym and is forced to wear prescription goggles, Jerry nicknames him "Aqua Boy." Kramer tells him he can get a deal at J&T Optical with Dwayne, just mention Kramer's name and save 30%. While outside the shop, he thinks he sees Jerry's girlfriend and his cousin Jeffrey kissing (it turns out to be a cop and her horse). He ends up getting women's frames and returns to Jerry's apartment where he is able to spot a dime clear across the room (mercury head dime). Back at the gym, he runs into a blind man and admires his frames. He convinces him to switch frames and we see that George's original glasses were left above his locker.
The Sniffing Accountant 10/7/93 George, still living with his parents, buys his own ketchup to avoid the wrath of Frank. Frank tells him that he has set up an interview for George as bra salesman. Mr. Farkas is the interviewer and George tells him that he has always had a good raport with women and is enthralled with the bra, in fact, he studies his friend's mom's bra. But he blows it when feels the material of a woman who turns out to have much power in the firm.
The Bris 10/14/93 George admires his parking space outside the hospital when a man suddenly jumps to his death (20 floors). Unfortunately, he falls on George's car (a 1976 Chevy Impala) and demands that the hospital pay for the damages. But the hospital won't pay. Later on at the bris, George passes out when Jerry flinches. Back at the hospital, George gets another great spot, but his car is stolen by the pigman.
The Lip Reader 10/28/93 At the U.S. Open, we learn that George needs greater than 25 sunblock. He leaves his seats to go get some sunblock and ends up eating a sundae and is caught on camera with it all over his face. Gwen, his girlfreind, then breaks up with him for no reason and tries to use George's routine (it's not you, it's me). He is then able to get a lip reader, Jerry's new girl, to go to a party and find out the reason. But it backfires when the lip reader misreads sweep as sleep.
The Non-Fat Yogurt 11/4/93 Lloyd Braun's first appearance, he's an advisor to Mayor Dinkins. George, Elaine, and Jerry run into him in a yogurt shop and George fakes an arm injury that causes spasms. Lloyd refers him to a doctor recommended by Mayor Dinkins. He fakes it, but then actually injures it in the office.
The Barber 11/11/93 George has an interview with Sanlack, a rest stop supply company, of course...He doesn't know if he got the job, so he decides to show up for work anyway. He has his choice of offices when he shows up and picks the small one (room 808). He is assigned the Pensky file and does nothing the whole week. He drums his desk and sleeps. It's almost blown when Pensky shows up to view his file and tells George that he's Pensky material, of course....When his boss shows up, he decides to quit and leaves for Pensky, of course the board is under investigation. No job.
The Masseuse 11/18/93 George's girlfriend is Karen. He thinks Jerry's new girlfriend, Jody, a masseuse, doesn't like him and becomes obsessed with having her like him. We learn that his taxi hailing technique is unmatched and that he has to be liked. He is so obsessed that he leaves Karen and tries to fix the relationship with Jody, he's started to like her..
The Cigar-Store Indian 12/9/93 Jerry offends a native American friend of Elaine's with his gift. Elaine takes Frank's TV Guide and meets a strange person on the subway. George has to get his parents coffee table fixed and Kramer gets the idea for a coffee table book about coffee tables.
The Conversion 12/16/93 George's new girlfriend (Tawni??) breaks up with him because he is not Latvian Orthodox. He decides he is going to convert to win the girl back, like King Edward (who abdicated the English crown). He tells the priests that he'd like to convert because he likes the hats. But he learns that conversion is a hard thing to do and has to study for it. He even writes answers on his hand and gets an impressive performance. He converts, but no girl.
The Stall 1/6/94 George has a crush on Elaine's new boyfriend, the mimbo Tony. He is accused of being in love with him by Kramer. To get on his good side, George suggests he and Tony go bowling! Tony nixes it and suggests rock climbing. Kramer is also invited and George becomes jealous. But one of the two idiots misses a knot and Tony falls onto a rock.
The Dinner Party 2/3/94 George has a new jacket-it's gortex and it's huge. The whole gang has a dinner party to go to and George is upset that they have to bring something. He wants to bring Pepsi and ring dings. So the gang heads out, Jerry and Elaine get a cake, and Kramer and George are supposed to get the wine. The wine costs him $13.05, but the store can't change his $100 bill. So Kramer and George head outside to a newstand to get change. He has to buy gum, a newspaper, a clark bar, and a Penthouse Forum all for $6.75 to get his change. They return to the liquor store to find that they are blocked in by a double parker, who looks like Saddam Hussein. We also learn that he is afraid of Elaine. Kramer and George decide to wait out the parker in the store and he knocks over some wine and loses his jacket.
The Marine Biologist 2/10/94 Jerry tells a friend from Queens College, Diane, that George is a marine biologist and that he's been working on lowering the cholesterol level of whales. Diane gets in touch with George and he says that he had just returned from the Galapagos Islands and he was living with the turtles. While walking on the beach, a crowd has gathered around a beached whale...George has to go into action since he is a marine biologist! What does he retrieve and how does he save the whale? He pull a titleist golf ball from the blowhole! Kramer had a hole in one! Later, George admits he isn't a marine biologist and is dumped.
The Pie 2/17/94 George thinks Jerry's idea about moving walkways around the city is a great idea. George has an interview with McKenzie and decides he's going to get a suit at Rinitzi's. Once there, he and Elaine see a manequin that looks eerily like Elaine. He learns that the suit is going on sale on Friday and decides to wait it out. He has to hide it from another potential buyer (a size 40 short). He succeeds, but his suit makes a wooshing sound when he walks and he is afraid McKenzie will not hire him because of the suit. However, his downfall comes when he refuses to be a team player and does not eat a specially prepared chocolate cream pie (made by the potential buyer of the suit). He doesn't get the job, but he doesn't get violently ill.
The Stand-In 2/24/94 Jerry and George, while on a bus ride run into a friend. This friend tells George's girlfriend, Daphne, not to get involved with him. George won't have it and stays with her for spite. But he really can't stand her and tries a father-son picnic excuse, but has to cancel to spite Al. He even goes as far as asking her to move in for spite! But Daphne dumps him in the end.
The Wife 3/17/94 Jerry pretends to be married to share a discount he receives at the dry cleaners. George gets spotted peeing in the shower by a guy who gives Elaine mixed signals. Kramer doesn't look good because his quilt is still at the cleaners so he goes to a tanning be before he meets his girlfriends parents.
The Raincoats 4/28/94 George gets duped into being a big brother for Joey, but really doesn't want to. He schemes and says he's going to Paris, he'll have the Seinfelds drop off postcards. However, he's trapped when he finds out Joey's dad lives in Paris! (He'll be staying at the Eiffel Towers Apartments). Meanwhile, he also finds out about Rudy's Antique Boutique, a shop that specializes in vintage clothing. He decides to sell Frank's clothes and pockets $245. Then he finds out that the Seinfelds are trying to avoid his parents and tries to blow Kramer and Morty's deal on raincoats. In the end, he takes Joey to Paris because the Seinfelds aren't going on the charter flight.
The Fire 5/5/94 Robin, a waitress at the Improv, is George's latest victim. Robin is throwing a birthday party for her son and decides on a clown, Eric the Clown. George is obsessed with Bozo the Clown and keeps asking Eric if he knows who Bozo is. Then, he sees smoke coming from the oven and freaks out. He yells fire and knocks over an old-lady to be the first out of the apartment (he's got to be the leader). At the end of the show, George blows Jerry's set by yelling "gun" in the Improv. Turns out it's just Ronnie, the prop comic.
The Hamptons 5/12/94 Jane is George's latest girlfriend and he hasn't had sex with her yet and is hoping that a weekend in the Hamptons will cure it. But everyone else gets a jump start on him when they see Jane topless. George finds out and insists on seeing Rachel, Jerry's girl, naked. He likens himself to Neil Armstrong--he turned around to get a sip of Tang and Jerry jumps out onto the moon. However, his plan is foiled when Rachel walks in on him after he's been in the pool--shrinkage!! He's worried that Rachel will tell Jane, she does and Jane leaves early. George's revenge: cooking scrambled eggs with lobster and serving them to Rachel--she's kosher. Ultimately, he gets to see her naked and ends up with tomato on his face.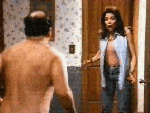 The Opposite 5/19/94 George realizes that every instinct he has ever had has been wrong and Jerry suggests that the opposite of his instinct would have to be right. Instead of tuna on toast, cole slaw, and coffee, it's chicken salad on rye, potato salad, and tea. Which is the same order as a woman at the counter. So he does the opposite and tells the lady that he's George, unemployed,and lives with his parents--hi I'm Victoria! Instead of being the normal George, he doesn't shave, doesn't get mad at being cut off, and tells movie hecklers off. He even does not come upstairs even when offered by Victoria. All this leads to George getting an inteview for the assistant to the traveling secretary of the New York Yankees. He's the opposite of every candidate that's come in for the job and he even tells Steinbrenner off and get's the job! He even gets a new apartment on 86th and talks to Mattingly about his new stance. Ruth, Gherig, Dimaggio, Mantle, and Costanza!